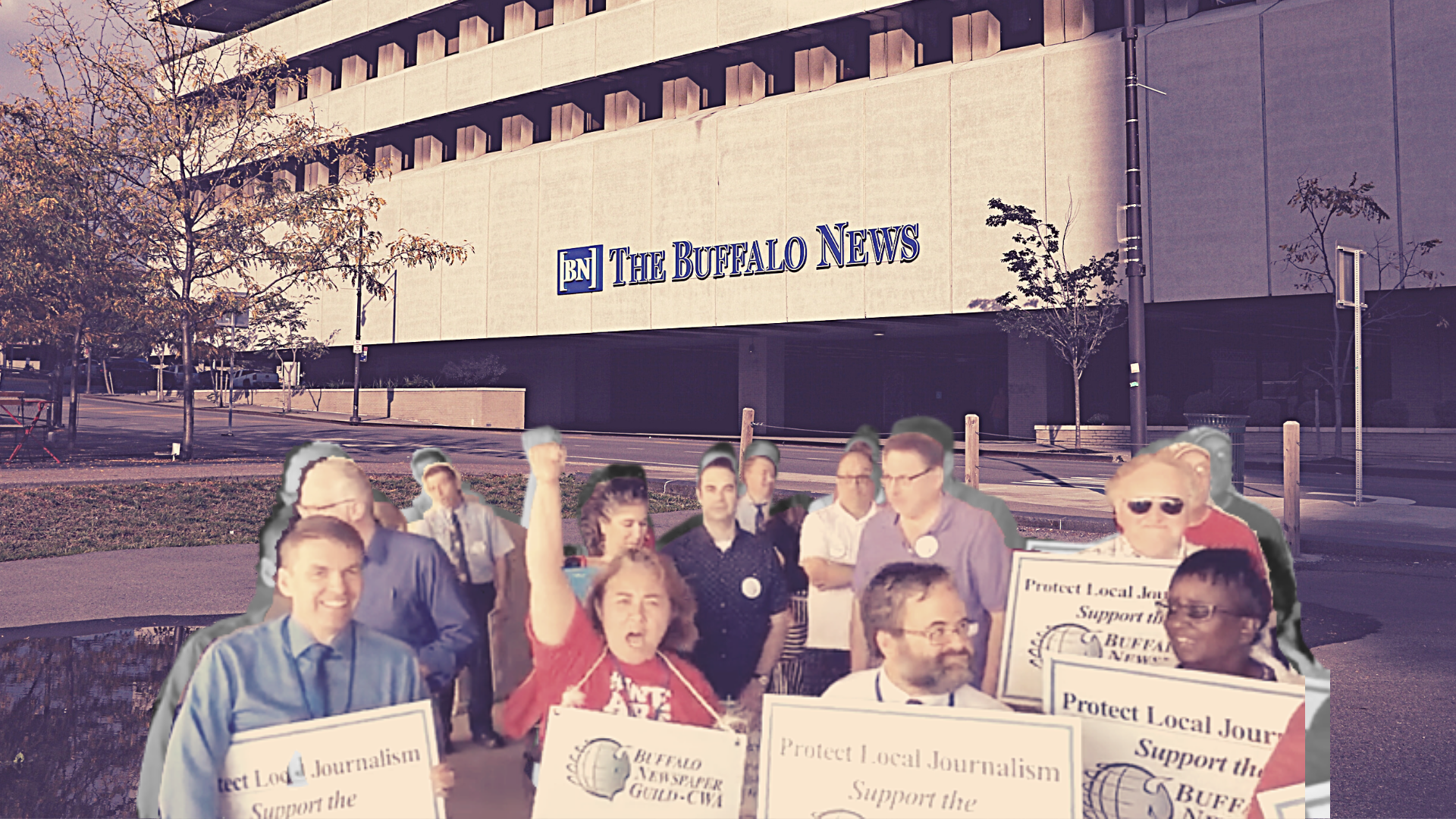 When Lee Enterprises bought The Buffalo News from Berkshire Hathaway last year, it ended the paper's long run of independence. As word of the sale hit the newsroom, reporter and Buffalo Newspaper Guild President Sandra Tan tweeted that she was "Shocked and speechless." 
Tan has moved from shock to bargaining. The Guild has been in contract negotiations with Lee executives for the last six months; they've stalled out over proposals that include freezing pensions, eliminating job security protections, and sending the paper's design and copyediting work to Midwestern hubs while outsourcing customer service to call centers in Mexico. In response, the Guild has begun a campaign to rally public support in labor-friendly Buffalo. They launched a new website and bought a billboard proclaiming Lee "bad news." 
It's a showdown between a union with a long history in a union town and a media conglomerate that, until recently, rarely had organized labor inside its newsrooms. While union membership has exploded at national, digital-forward outlets over the last five years, it's also increased at local newspapers, where the arguments made for organizing are as much about the importance of local news for the community as they are about working conditions. The Guild's messaging in Buffalo is using the language of manufacturing unions to make the argument that local papers rely on for reader support: cutting and outsourcing newspaper jobs is as bad for the community as outsourcing factory jobs.
The News was the first newspaper billionaire investor Warren Buffett bought in 1977. Owned by Berkshire Hathaway, it existed separately from Berkshire's newspaper ownership arm, BH Media Group, and had remained outside of a 2018 operating agreement with Lee. On Thursday, the Guild held a press conference at the entrance to the News' brutalist building at 1 News Plaza to talk about how the ownership change is going.
"When Lee bought the Buffalo News in March last year, we were hopeful this Iowa-based media chain would put its best foot forward for western New York. Instead, they've chosen to step on us," Tan told the assembled Guild members and local media. At the end of the conference, she announced the Guild would begin a byline strike the following day; stories started to run in the paper on Friday without attribution or author photos. (A Lee Enterprises spokesperson declined a request for comment.)
The day before the press conference, Tan said the Guild had no problem gathering public support in western New York, including a letter to Lee CEO Kevin Mowbray from six area state legislators. "We are a strong labor town here," Tan says. "People care about union jobs getting sent to non-union hubs out of state and out of country." They also care about Bills and Sabres game coverage, she says, which could be missing from the next day's paper after a game because of the earlier deadlines remote page design requires. 
One of the major sticking points is the union's job protection language, which requires that layoffs be for economic reasons and that the company work with the union on how to effect them. "And those are both things that Lee Enterprises has said 'We don't have any other paper that's got this kind of contract language. Why do you think you're so special?'" Tan says. 
The News is special — or at least lucky — because it retained local decision making until 2020. "On balance, the people who managed and made the big decisions at the paper were people we saw every day. That culture is being erased under Lee's ownership," Tan says. "I think that a lot of other papers went through this kind of pain much sooner because they were owned by giant media corporations earlier than us."
This is also a new situation for Lee: publicly going up against a nearly 80-year-old union in a union town. For years, Lee's largest union paper (and largest paper) was the St. Louis Post-Dispatch, which Lee bought as part of its purchase of the Pulitzer papers in 2005. Today, the union that represents P-D newsroom workers includes about 100 workers while the Buffalo Newspaper Guild includes about 150. Outside of St. Louis, union representation was nearly nonexistent at Lee papers until 2018. Between the formation of new unions and the acquisition of papers with existing ones, Lee has gone from one to eleven papers with newsroom unions in the last three years. The largest new union is the Omaha World-Herald Guild, which organized in part because Lee started managing the BH papers.
(Full disclosure: I was part of a successful 2018 organizing effort at a Lee-owned paper, the Missoula Independent,  that the company shut down before a first contract was negotiated).
Post-Dispatch photojournalist David Carson is vice president of the United Media Guild. He's worked with some of those successful recent organizing efforts and remembers the immediate effects of being bought by Lee in 2005. "The number of employees began decreasing almost immediately under Lee through layoffs and buyouts and outsourcing," says Carson. In 2019, Lee moved the Post-Dispatch's design and copy desks to Indiana — the same thing they are aiming to do at the News. 
"Any time you're losing decades of local knowledge and experience it's gonna hurt the product," says Carson. "Lee's decision to outsource these jobs is not a decision centered on producing good journalism, it's a decision based upon cost savings."
Carson and Tan both have a strong interest in producing a quality product for their customer, which is the local subscriber and advertiser. Lee's customer is the shareholder. Those are buyers for two completely different products, a newspaper and its local audience on the one hand, and a media conglomerate on the other. It's easy to see how unrelated their interests are in the example of the copyeditors Tan wants the News to keep local, that to Lee are so easily outsourced. 
"They keep big mistakes from getting in the paper, they're the ones who know how to spell Cheektowaga, and there are very few of them left," she says. "I don't see how that saves the company a lot of money and I don't see how that doesn't damage the quality of the Buffalo News as a product that's worth buying." 
That might have been a compelling argument when the people on the other side of the bargaining table were News executives, who shared the same goal as union members of keeping the News healthy as an individual entity, Tan says. For Lee Enterprises, though, she says the goal is eliminating any obstacles to cost-cutting. 
"What they're really looking to do is get rid of union jobs," says Tan. "Because they're going to end up needing to hire people at their hub but they can hire them cheaper and they won't be part of a union and that's what they want." 
---
Read more