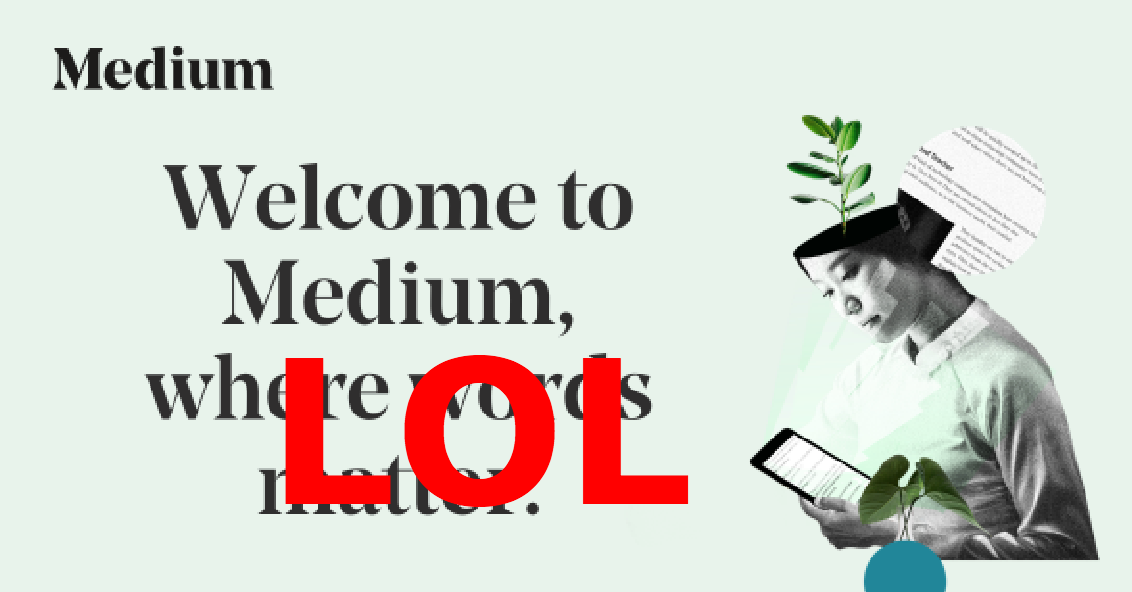 Going to the homepage of Medium.com means entering one of the most conflicted spaces in digital media. It's a black hole of pseudo-emotional Thought Catalog runoff, corporate strategists spewing productivity hacks, personal lifestyle blogs, professional journalists blogging in their off-hours, and the odd slickly produced feature story. It wavers eternally between an open platform where anyone can post anything, in the mode of Twitter or Facebook, and an actual editorial operation commissioning ambitious original projects that are now paid for (in part) by readers. The problem is telling all the different kinds of content apart—and understanding how they fit together.
To some, primarily its founder Ev Williams, Medium is a savior of online publishing. To others, it's a death knell, suggesting that no matter how much money a start-up is given, and no matter how much experimentation takes place there, the business bound to end up in confusion and conflict. At a moment when digital publishing is at a peak in volatility, Medium promises transparency, independence, fair wages for writers, and a method for funding journalism. While it repeatedly bungles many of its alleged goals, its core mission to alter the relationship between writing, money, and online advertising keeps hope for something better afloat—at least until the company's next pivot.
Launched in 2012 by the former Twitter CEO and current board member, Medium was initially billed as a space for Twitter users to share thoughts that surpassed 140 characters, long before 280. Williams seemed to have a highbrow, albeit abstract, sense of mission for the new site. "I want to change our definition of professional writing," he told TechCrunch in 2013. "At least expand it." Instead, users were presented with a prettified blogging platform: LiveJournal updated for 2010s-era digital minimalism.
Williams acknowledged the perils inherent in this open format from the get-go. In the TechCrunch interview, he argued, "People are going to publish crap on Medium … And guess what? There's crap on Twitter. There's crap on blogs. […] If we try to keep crap off the Internet, the Internet wouldn't be important." This prediction inspired a sense that Medium would be a different kind of platform, one where the "crap" was but a borderline-irrelevant consequence of editorial greatness. But that uncontrollable stream of crap has also hindered Medium's larger, more high-minded ambitions, and forced repeated zig-zags between editorial strategies.
In 2014 the company acquired and relaunched the digital magazine Matter as a general-interest publication with the goal of creating a home for "timely, original journalism that combines the reporting and scope of serious publications with the fun and intimacy of the social web." Originally a subscription-funded, Kickstarter-launched science publication, Matter got a new editor-in-chief, the veteran GQ editor Mark Lotto, and became the mouthpiece of Medium itself, commissioning glossy, high-budget content that served as a tentpole for the platform. It published elaborate features like an account of lawyer Shannon Liss-Riordan's 2015 lawsuit against Uber, as well as Awl-ish musings on neon signs, and an epically long essay on selfies. (Disclosure: Study Hall publisher Kyle Chayka was a contributor.) The aggressive editorial strategy nabbed Matter a National Magazine Award for Joshua Hammer's long-form reporting on the Ebola crisis, making it the first digital publication to win the award.
In addition to re-launching Matter, Medium expanded its staff. The site raised $25 million and $57 million in 2014 and 2015, respectively, giving the company a $400 million valuation. Medium also continued to roll out new publications funded by its own capital as well as scattered ad deals, like Re:form, a design blog sponsored early on by BMW.
With a sleek publishing interface and shiny, award-winning content, Medium became an attractive publishing option for media newcomers and websites struggling to make it on their own in the digital platform era. In 2013, comics publisher The Nib launched with Medium under cartoonist Matt Bors, and in 2015, by-and-for women's news site The Establishment set up shop. Smaller media companies like Pacific Standard, The Awl, and The Ringer also began using Medium's platform as a content management system, in deals sweetened with guaranteed revenue from Medium's inchoate ad operations. In 2016, Pacific Standard magazine editor-in-chief Nicholas Jackson gushed, "Moving to Medium was an obvious solution for what we wanted to do."
But there were persistent tremors of uncertainty. In summer 2014, Medium announced it would be rolling out native ads and sponsored posts, finally answering the question of how the site planned to make money (Williams had previously stated that traditional banner ads would tarnish Medium's aesthetic). In 2015 Matter began to slow down its publishing, and by 2016 it was crumbling, publishing its final post in November. The title relaunched as an independent media incubator-slash-studio that March, with funding from Williams himself and leadership by Lotto and his wife Hillary Frey, the former executive editor of Fusion (now executive editor at Huffington Post). Then the studio closed abruptly in January 2017 due to management issues, leaving writers with potential collaborative projects—book deals and film aspirations—in the lurch. The studio did, however, produce a trailer and swag for its rebrand logo.
Matter's sudden shift coincided with the departure of Pacific Standard, The Ringer, and The Awl from the Medium platform. In May 2017, less than a year after joining Medium, Jackson was already explaining that Pacific Standard's departure from Medium would allow it to increase subscriber growth and develop new features. The Awl departed several months later without much fanfare. Editor Silvia Killingsworth described the publication's return to WordPress in a post that referred to Medium as "a cool experiment, in my opinion." She continued, "Personally I missed the ads." (The Medium detour seemed to help derail The Awl permanently; it shut down in January of this year.)
Medium's meandering business model meant that in early 2017 it was forced to lay off approximately 50 staffers (one-third of the company at the time) and close offices in New York City and Washington, D.C. Under duress, the company pivoted away from serving as a platform for other media brands and doubled down on its own fraught editorial strategy.
* * *
In summer of 2017, Medium began beta-testing the Medium Partner Program, a system in which writers publish content that they choose to put behind a paywall and receive compensation based on how the piece performs in terms of views and "claps" (Medium's equivalent of "likes"). By fall of 2017, the Partner Program opened to all Medium users. Readers are now limited to accessing four subscriber-only stories a month before hitting the Partner Program's $5 monthly paywall, though the vast majority of articles on Medium are still not paywalled, adding to the confusion.
On the surface, the Partner Program seems to be the solution to many of Medium's original woes. It rewards content that is legitimately successful on the site, paying writers for their work directly without the middle-man of hosted independent publications or advertising clients, and creating a consistent revenue stream for the company in the form of subscriptions.
Yet the Partner Program raises as many questions as it answers. It suffers from a lack of transparency as to how views and claps equate to payment. For many users, similar quantities of traffic on different stories do not equate to similar fees from the site's monthly payouts. Medium's official policy is vague: "You will be paid based on the engagement your post gets from Medium members. The primary metric is claps, though other factors may be considered."
For the purposes of both illumination and disclosure, I was a beta-tester of the Partner Program, and have continued to use it. In April of 2018, I published two paywalled stories: the first received 180 views, 44 reads (a 24% read ratio), and just two claps. I received just over $100.00 for this story, allegedly based on these statistics. My second story received 4,500 views, 1,800 reads (a 41% read ratio) and 172 claps. I am set to receive $134.00 for this story. It is hard to divine the proportion behind these numbers, though it perhaps suggests a minimum rate for certain participants of the program. In September 2017, Medium reported that the average payout for all writers in the partner program was $93.65, and the largest payment for a single author clocked in at $2,279.12—indicating that many of the payout amounts are less than the $25 to $50 a freelance writer might get for even the worst-paid blog posts. Those attempting to parse the technicalities of the partner program have speculated that different users "clapping" (see: "liking") a story carries different financial weight, but again the exact algorithm remains opaque.
Online, Medium users range from confused to disgruntled or angry about the state of their payment projections from the Partner Program. Writer Jay Owens recently shared screenshots of her payment projections on one essay. Her piece received over 20,000 views but she was set to receive just $44.63, despite the fact that Medium itself seemed to adopt the piece when it proved successful, adding an illustration and offering to make an audio version. Owens also pointed to a piece commissioned by Medium itself (labeled a "member feature story") from author Malcolm Harris, for which he received a rate of $4,000 for 4,000 words. That piece, however, received less than three-fifths of the claps of Owens's, highlighting the discrepancy between how Medium treats the commissioned content through which it hopes to build the site's reputation and the content organically published on the site by its users.
A few people have attempted investigations into the algorithms that dictate Partner Program payment. Writer Stella J. McKenna shared her statistics, and said she even tried making charts to understand the metrics, but was ultimately left confounded and wondering if Medium staff themselves influenced which stories succeeded. Other writers, often of a specific quality and tone—middle-aged, business-savvy, white, male content creators—have their own crop of posts attempting to "hack" the Partner Program. Yet even their conclusions have little depth; one writer even encouraged others to "embrace the randomness of the algorithm." Not exactly a feasible means for a working writer to make a living.
The draw of getting paid in any form is enough for many writers, and the launch of the Partner Program and Monthly Membership seems to have coincided with a reinvigoration of the site's original content initiatives, driven by freelance editors behind the scenes. Recently, for example, the acclaimed writer Roxane Gay spearheaded a pop-up publication, Unruly Bodies, hosted on Medium, which featured writing from a group of high-caliber voices. Medium also launched a new comics publication (its second, since it shut down The Nib) called Spiralbound, edited by the writer and artist Edith Zimmerman. Whether Medium is funding such initiatives through revenue from the paywall or merely repeating the past strategy of throwing unsustainable amounts of venture capital at big ideas is an open question.
Because Medium commissions so much original work, it cannot hide behind the excuse that it's not actually a media company, as Facebook does to excuse itself from problematic content. But the company also refuses to acknowledge itself structurally as an editorial operation. Despite recently (re-)hiring teams of editors, including poaching executive editor Katie Drummond from The Outline to be its new deputy editor, Medium doesn't even publicize a masthead. This lack of transparency falls prey to the same problems of fake news: it's harder to trust a piece of writing when you can't tell who's profiting from it and how the money is made.
Though it still brands itself as a solution for well-compensated journalism, the company is only getting less clear. A recent New York Times puff piece about Williams and Medium painted its creator as someone desperate to "fix the internet." Only 24 hours later, Medium attempted to quietly end its paid partnership program for external non-Medium-owned publications with less than a month's notice—effectively terminating a revenue source for the 21 titles reliant on the program. Electric Literature's Executive Director Halimah Marcus announced via Twitter that Medium's decision put the publication at risk of losing $25,000. Meanwhile, Williams brushed off critiques of the pivot, saying it was necessary to reduce "confusion among paying Medium members." In other words, users should be encouraged to subscribe only to Medium's own umbrella editorial product, not those of individual publications. The future for many other publications on Medium remains unclear. In the course of reporting this story, the company did not return repeated requests for comment on the paid partnership program and other queries.
Medium's ambition to mingle expensive, original content with user-generated material under the guise of a subscription is ambitious. It may suggest a way forward for independent writers and publications alike. Yet the platform fails to be transparent or to allow users full access to its monetization products, preferring instead to meander between publisher and platform, title and tool, without succeeding at either. Medium could be a beacon of light during this confusing time in the media industry, but with every pivot, that light gets harder to find.