EXCLUSIVE: We Made Anges Callard's "Cookies"
A "cookie" for falling in love.
THE MEDIA CLASSIFIED ADS
►The inaugural Artlab Editorial Fellowship is now open. Two selected writers will receive $10,000 to produce arts writing that brings new perspectives to a global network of readers and explore their communities with an eye toward forward-thinking solutions. Learn more here.
>> The Classified Ads are taking a break for March and April. When we return, you'll be able to place your Ad in our two weekly newsletters: Thursday's Opportunities and our Digest. We also offer add-on placement for Slack and Listserv posts. Want to promote your job opening / pitch call / new project / ecommerce brand? Click through for rates, testimonials, and to get in touch. <<
---
EXCLUSIVE: WE MADE AGNES CALLARD'S "COOKIES"
A conversation-setting piece of writing leaves some questions unanswered, the selective void taking up space in the imaginations of readers, and animating group chats and tweets and conversations over drinks of dinner. Why is Jeremy Strong like that? Who is the bad art friend? What exactly is a cat person? Rachel Aviv's profile of philosopher Agnes Callard, published in the most recent New Yorker is such a piece, and raises many a big question about the nature of marriage, relationships, and monogamy. But something very specific goes unanswered in the story that's more annoying than searching: what cookies did Callard bake for her students at the University of Chicago the day that Arnold Brooks, a first year grad student with a knack for Aristotle, declared his love for her, and she did the same?
To celebrate the end of the term, Agnes had made cookies for her students, and she gave an extra one to Arnold, a twenty-seven-year-old with wavy hair that fell to his shoulders, who was in his first year of the graduate program in philosophy. As Arnold ate the cookie, Agnes, who was thirty-five, noticed that he had "just this incredibly weird expression on his face. I couldn't understand that expression. I'd never seen it before." She asked why he was making that face.

"I think I'm a little bit in love with you," he responded.
Aviv can certainly be a vivid writer, but "cookies" is so underwhelming a detail in the story's lede anecdote. It's this moment that very rapidly leads to the dissolution of Agnes' marriage — but not her close familial relationship — with fellow philosopher Ben Callard, and the beginning of her very non-traditional post-divorce and second-marriage life that's at the heart of the story. Were they a particularly good chocolate chip cookie? Some viral, savory-edged recipe with miso or tahini in it? Knowing what particular taste led to that moment seems to color the whole relationship that follows. 
In the context of the story it's more than a matter of taste, too. If romantic relationships are, as Aviv writes of Agnes' thinking, "the place where some of the most pressing philosophical problems surface in life," then the things that surface those relationships in the first place necessitate their own ontology. Thankfully, now you can know the answer (must credit Willy Blackmore): the cookies were homey little knots of rugelach (which is technically not a cookie!). Callard's recipe comes from "Baking With Julia," the 1996 cookbook based on the Julia Child TV show of the same name, and written by cookie legend Dorie Greenspan (the recipe itself is attributed to Lauren Groveman, another PBS cooking-show host). They're a classic iteration, fitting for a trained classicist, filled with a mixture of dried fruits, jam, and nuts — according to Callard's marginalia, she prefers a mix of pecans and hazelnuts. (Here's a version of the same recipe, courtesy of a cooking blog, not JSTOR.)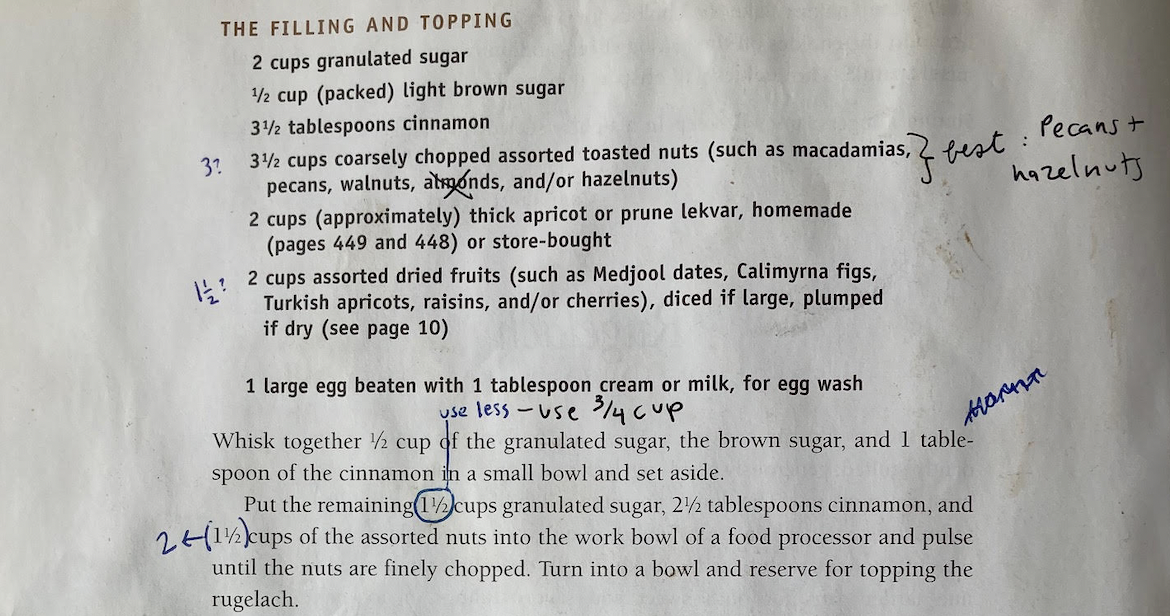 Photos Callard sent me of the recipe show her many notes (she prefers a lighter amount of filling), and over email she said it is a recipe she's made for her students many times, "but I've baked for my students often!" There was a cake the other day for a party at her house, and another that she brought to class just after Valentine's Day. "I tend to make lots of diff recipes," she said, "but Arnold remembered that that time it was the rugelach" — a cookie, apparently, for falling in love.
---
A PASTRY BY ANY OTHER NAME WOULD TASTE AS SWEET
When Willy came to us with Agnes Callard's rugelach recipe, I thought, "Maybe my hot neighbor will fall in love with me if I make them for him." And so I gathered all the ingredients to make this pastry. (It's not really a cookie.) Once I had all the ingredients, I realized I didn't have the tools I needed to actually make the rugelach. I'm not much of a baker so I don't own a mixer, or even a cookie sheet, and so I recruited help from friends. One friend lent me a mixer, another lent me their rolling pin, and the Greek philosopher Aristotle lent me some wisdom for my journey: "The most important relationship we can all have is the one you have with yourself, the most important journey you can take is one of self-discovery." 
Over the next 20 hours, I embarked on a journey of self-discovery as I beat butter and cream cheese, slowly mixed in the flour, and chopped up pecans to mix with sugar and cinnamon for the coating. I rolled out my ball of dough, and stuffed it with jam and dried apricots while Lady Gaga gave an impassioned speech on TV in the background about the song she wrote for "Top Gun: Maverick."
 "We all need a hero sometimes," she said, as I jammed dried apricots into a doughy rectangle. Always an attentive and eager student, I incorporated Callard's notes into my own process and so I was tempted to roll the dough thinner, despite the recipe's warning against doing so. 
By the time I finally enjoyed a bite of rugelach, 21 hours after I began the process, I was no longer interested in sharing them with my neighbor. The pastry — a perfectly caramelized chewy roll, sweet from the cinnamon sugar, crunchy from the pecans, and tart from the apricot filling — was so delicious that I decided the small batch I made was best shared between friends. 
While Callard's notes were helpful in the baking process, I have just one to add: Read the recipe in full before embarking on this journey. —Erin Corbett
---
DANIEL ATE SOME RUGELACH, TOO
Over the weekend, while Erin was baking for her hot neighbor, my mom half-heartedly gave me a Purim gift basket she got from our synagogue, Temple Beth TK, that was stuffed with candies and chips and coupons for Koscho Superstore – a self-described "new kind of Kosher shopping experience" which I probably will visit once out of curiosity. At the bottom of the bounty of miscellaneous Jewish treasures, there was a plastic-wrapped rugelach glistening like manna from heaven. I proceeded to eat the chocolatey, vaguely stale pastry, contemplating how the next time rugelach is referenced in a 5000-word profile, some fact-checker at The New Yorker should venture into a kosher bakery near One World Trade Center and realize that it is in fact, not a cookie. —Daniel Spielberger
---
COMINGS & GOINGS
—Astrid Taran is now a senior travel editor at Forbes. She was previously a senior editor at TripSavvy.
—Biz Carson will be covering the "intersection of money and Silicon Valley" as part of Bloomberg's wealth team. 
—Peter Sterne, who previously worked at New York Focus and Freedom of the Press is now an editor at City & State New York.
---
EVERYTHING ELSE
—Duke University plans to challenge whether its graduate school workers can be considered employees. This is an attempt to reverse the National Labor Relations Board's 2016 decision that graduate students at private universities can form a union. "Stop these reprehensible union-busting tactics, recognize our majority, and meet us at the bargaining table," Duke Grad Union said in a tweet. Though not formally recognized by the university, the union had successfully organized to raise the amount of graduate student stipends and decrease costs of parking. 
—Playboy, which shut down its print magazine in 2020, is returning as a digital-only vertical. Last year, the outlet relaunched as an OnlyFans-esque-subscriber-based platform minus the porn. This new iteration of the bunny magazine will feature written content by its models/creators. 
—Last week, a revolt took hold at the BBC. The broadcaster suspended sports personality and former English soccer star Gary Lineker over his social media criticisms of the government's plans to stop asylum seekers arriving across the English Channel. His suspension led to a boycott, joined by his co-hosts and their replacements (no scabs here!), play-by-play commentators, and players and coaches from the Premier League. "This is, at heart, a dispute over whether the BBC can impose its social media guidelines on a contractor," media researcher Claire Enders told The New York Times. Who among us hasn't been a victim of social media guidelines at a company that refuses to pay us the Big Bucks???
$532.50 is the average payment via the Study Hall marketplace, where freelance opportunities from top publications are posted. Members also get access to a media digest newsletter, community networking spaces, paywalled content about the media industry from a worker's perspective, and a database of 1000 commissioning editor contacts at publications around the world. Click here to learn more.