Who's Your DADDY: How DADDY Magazine Is Working to Reshape Berlin's Media Landscape
"​​Everyone can relate to it. Leather daddies, sugar daddies, lesbian daddies, or your own father who might be the most lovely, adorable person or highly problematic figure in your life. We chose the name because we wanted to make it very clear that we're not taking ourselves too seriously and that this is not an academic publication. You don't need to have a PhD in gender studies to write a contribution."
Being DADDY isn't easy. For five years, the Berlin-based, BIPOC-led publication has pushed to diversify Germany's conservative media landscape with stories from the city's underrepresented communities. In a city of nearly 3.7 million people, with over 790,000 foreign residents from more than 190 nations and an average population age of only 42.7 years, DADDY Magazine is still, somehow, an outlier. It is a publication that finds diversity in content as important as diversity in leadership. It's a publication with a shoestring budget that has clawed through bureaucratic red tape, endured discrimination, and managed to thrive in the midst of a global pandemic. Were it any other publication up against these daunting circumstances in its first years of life, it could easily have shuttered — but DADDY Magazine was built different.
The publication wasn't just built out of a passion for centering the stories of the marginalized; it was built out of necessity, attempting to counteract the discrimination that still thrives in Berlin. When the journalist and content strategist Kemi Fatoba moved to the city from London in 2016, the image of Berlin as a progressive haven clashed against her reality. "It was really weird to realize that Berlin has the same problems as every other place," she recalls of her early days in the city. "There was a lot of casual sexism, casual homophobia, and casual racism coming from younger people, which really disturbed me." Within a year of moving, as she and two colleagues at an agency complained about Berlin's diversity issues, talk turned to the idea of forming a publication to center the voices and stories of marginalized communities that the city ignored. It was here that DADDY was born — with a tongue-in-cheek name to match a publication that didn't take itself too seriously.
"​​Everyone can relate to it. Leather daddies, sugar daddies, lesbian daddies, or your own father who might be the most lovely, adorable person or highly problematic figure in your life. We chose the name because we wanted to make it very clear that we're not taking ourselves too seriously and that this is not an academic publication. You don't need to have a PhD in gender studies to write a contribution." Still, despite their mission statement to examine the "tough issues (like racism, sexism, homophobia and discrimination) through a humorous lens," DADDY was a radically different —  and extremely important — new entry in the city's media ecosystem back in 2016.
In the half decade since launching, the publication's significance has grown with its scope. While other publications in Berlin have patted themselves on the back for including the bare minimum level of diversity in their content (while retaining nearly all-white mastheads), DADDY has become a model for how to make a truly diverse publication. A key ingredient to this success has been offering mentoring and editing assistance to marginalized writers who had been ignored by other outlets. By championing new voices, they have amassed an impressive breadth of content that is as diverse as those writing the stories. Across two print issues, Together and Dreams, DADDY has included a photo essay and profile on Germany's first voguing house, House of Saint Laurent; pushed past Berlin to focus on Jewish identity in Krakow and the struggle for LGBTQIA+ rights in Ghana; produced reported features on the racist nature of facial recognition technology; and published an essay on how one writer became a dominant top. And online, they've produced multiple essays series on everything from "model minorities" and mental health to guilty pleasures and building community.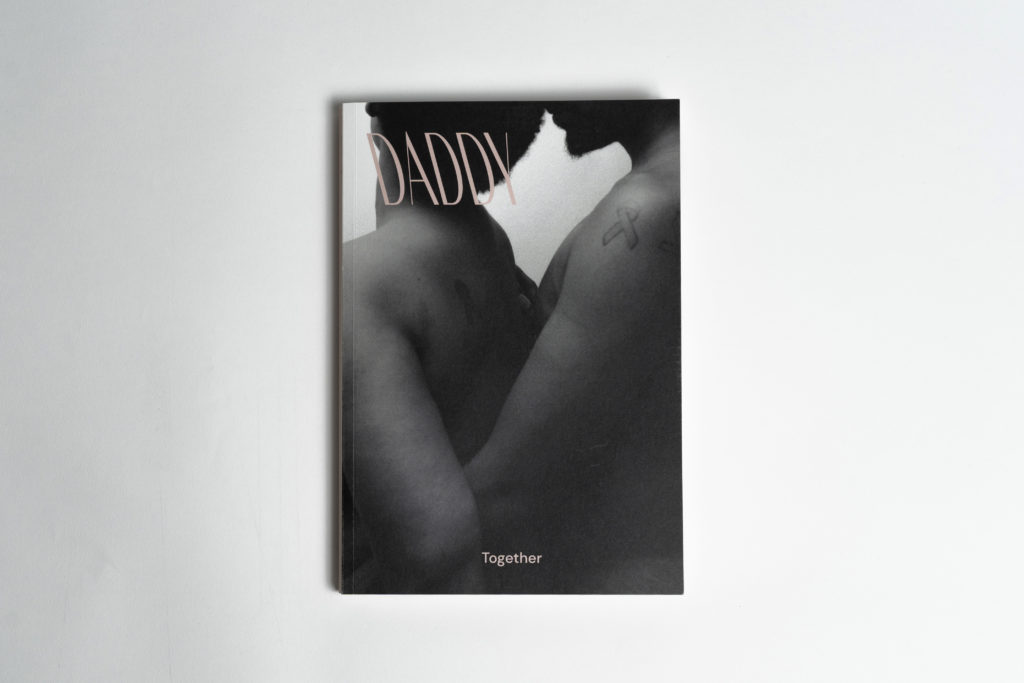 What began as a conduit for stories and voices from marginalized communities has become so much more than a digital platform with an eggplant emoji mouse cursor. In 2018, after a chance meeting at a house party, Fatoba brought on lawyer, journalist, and comedian Joe von Hutch as co-publisher. Under their leadership, DADDY has organized panel talks, literary readings, and exhibitions. They have produced a 48-hour intersectional film festival with Chicago-based platform Open Television (OTV) and launched DADDY Consulting, an agency that helps "institutions make long-term changes to better recruit, retain, and promote diverse talent." This work of helping companies pursue diversity "from recruiting through retention" creates an extra stream of revenue that is redistributed into the publication.
Even a global pandemic couldn't blunt their push forward. Their first print issue was formed and released in the shadow of COVID-19; as the city shut down in 2020, DADDY launched a crowdfunding campaign to fund the Together issue. One year later, they released their second issue, Dreams. It's an impressive trajectory for the publication, but the key to DADDY's success wasn't just tapping into the frustrations that birthed it. It came as a direct result of Fatoba and von Hutch's perseverance.
To truly understand the struggle that the duo had to go through when setting up a business in Berlin, it's essential to know that navigating Germany's bureaucracy is a labyrinthine journey of pain and despair. It's a hell that I personally experienced applying for and renewing my freelance visa, and it is a hell that Fatoba and von Hutch bravely walked into when they made DADDY a legitimate business. The process of forming a company wasn't new to either Fatoba or von Hutch — both had started businesses in the US and UK. What was new, however, was the number of hoops they'd find themselves jumping through.
For those not well-versed in German small business vernacular (everyone with a pulse), the trouble begins with the difference between a German private partnership (GbR) and the very-German, throw-all-the-words-together "Gesellschaft mit beschränkter Haftung" (GmbH), which is the equivalent of a limited liability company in other countries. The GbR is an easier process, whereas the GmbH is more difficult but far more legitimate in the eyes of the German government. "Germans are very, I don't know if status is the right word, but that stamp on that piece of paper makes all the difference," explains von Hutch.
As a Black-owned publishing company, DADDY is a rarity in Germany, and their unique position came with both power and added challenges. The initial stages of building up the brand meant a lot of meetings, which led to a lot of confusion for the vendors they approached. "They're surprised to see us, they're surprised that we speak fluent German. They are surprised that we are educated. They're surprised that I'm the Geschäftsführer [CEO] on paper."
Even with the mix of Fatoba's native German language skills and von Hutch's background as a lawyer (he had been working at a London law firm before moving to Berlin), the stress was nearly too much. There were many moments where, Fatoba admits, she came close to giving up, but was able to push through thanks to von Hutch and his legal expertise. "In the UK, I created a limited company within three days, and then people were 'Take this credit card, take this one, take that. What else do you want,'" Fatoba recalls. "[In Germany], it was such a mission to even get a bank account. How many phone calls do we have to make? How often do we prove ourselves? What else can we do? Do you want our firstborn child?"
Thankfully for all parties involved, there was no firstborn child-swapping, but there was a heaping dose of classism. Starting the business meant making a deposit that showed the bureaucratic overlords there was enough financial cushion between Fatoba and von Hutch to weather any storm that may hit DADDY. For the two freelance writers, this was a significant challenge. They had no generational wealth or pile of euros sitting in a bank somewhere. For von Hutch, his trajectory before Berlin included growing up in New York City housing projects and later sitting in major corporate boardrooms — but after leaving a very successful legal career in London, von Hutch had to "throw out [his] entire concept of salary and start over." For Fatoba, who had settled more deeply into freelancing as a writer when the two met, the difficulty came from a nightmare we should all be used to: chasing payment for work. Even to this day, she has to regularly chase clients for payment and sometimes even threaten to take them to court. At one point in her career, the frustration of not being paid on time pushed her to quit freelancing altogether — but this struggle also helped to inspire DADDY's hybrid model of writing and consultancy.
Thanks to the dual income tracks, the pair have been able to keep DADDY afloat while they take on other gigs to maintain their personal income. Because the pair pay themselves "the tiniest fee" and redistribute the income from their consulting work back into the publication, they also have to juggle a mix of side gigs — some for prestige, and some that'll pay the rent. Since 2019, Fatoba has penned a regular column on the Black experience for Vogue Germany titled "Schwarz mit großem S" (Black with a capital B), but also takes on other work to pay the bills. "I'm not going to put these [other] jobs on my website or brag about them, but I'm not in this position where I can afford to just live off my writing." The hustle may be draining at times, but it serves a larger purpose. With their economic situation stabilized, Fatoba and von Hutch are able to focus the rest of their energy on both creating a more diverse media ecosystem through DADDY, and righting the wrongs they've faced in the past.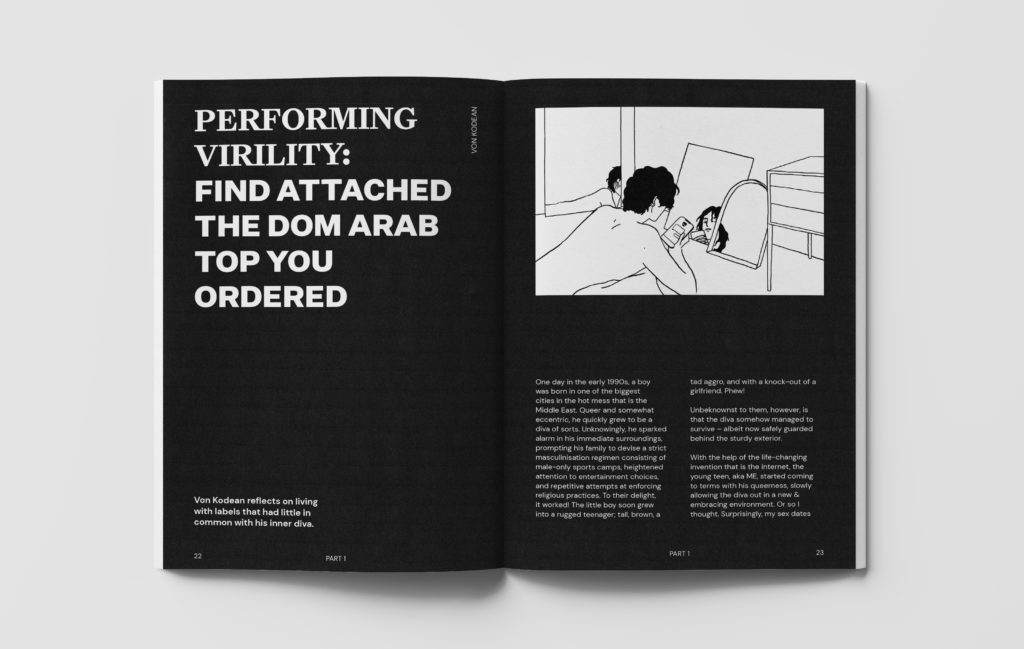 With the release of their two print issues has come real-world exposure and, most importantly, a chance for people from underrepresented communities to see themselves as more than just diversity tokens. After the first issue was released, the reaction was more positive than they could've imagined. "People really understood what we're trying to do in terms of elevating all these voices that haven't traditionally been elevated," recalls von Hutch. "People say 'print is dead' but people wanted to read these stories. They wanted to support us." Before their expansion to print, publishing online often felt like throwing content into a void. It was only at their annual parties that they'd receive feedback. "Suddenly, people would come up to us and be like, 'Hey, I really love the magazine. It's so nice to meet you in person,' or people who wrote for us met each other," recalls Fatoba. "That was the one time in the year when I was like, 'Wow, we're not doing this for nothing. People are actually reading this and people like us.'"
For Fatoba and von Hutch, the feedback they receive has been a gratifying affirmation of their mission to provide an outlet for new writers to share their work. "From the start, it was really important to us that we give new writers a chance to gain experience and try out different things," explains Fatoba. The publication offers its writers editing and guidance, and they make a point to note that you don't have to be a native English speaker or reduce yourself to your queerness or Blackness or transness or anything else at DADDY. "What's really important for me about DADDY is that you can write about your identity, but you won't be reduced to only writing about your identity," explains Fatoba. "[And] we totally understand the English language's cultural dominance. Not everyone speaks the language perfectly and fluently so that is not an entry requirement. We ask people to be creative and come up with something new to tell us."
The goal with DADDY, beyond publishing and positive feedback, is simple: it's time to stop talking about diversity and just do it. Five years into their journey, Fatoba and von Hutch have fought through bureaucratic headaches, overcome systemic discrimination, and weathered a pandemic on a shoestring budget as an independent publisher. They have proven that there are no excuses for not having diverse talent at publications and other companies. "Stop asking if racism exists. Stop asking if queerphobia is a thing. Just stop it. I'm not interested in that and we're not doing that either. We're having intelligent conversations with smart people from all sorts of backgrounds who we don't reduce to their identity," explains Fatoba. "There are literally no more excuses. Don't tell us you couldn't find anyone. Don't tell us there isn't enough diverse talent. It's all bullshit."
$532.50 is the average payment via the Study Hall marketplace, where freelance opportunities from top publications are posted. Members also get access to a media digest newsletter, community networking spaces, paywalled content about the media industry from a worker's perspective, and a database of 1000 commissioning editor contacts at publications around the world. Click here to learn more.
---