Classifieds Overview
Study Hall runs weekly classified ads in our Opportunities newsletter every Wednesday. Ads also run in the daily newsletter Today in Tabs. Together, we reach over 28,000 followers and members of the media. Click here to place your ad or email vicky@studyhall.xyz and chris@studyhall.xyz for more information.
Open Rates: 50-55%
Region: NYC-heavy
Good for: Newsletters, podcasts, media job listings, sponcon assignments
Subscribers: Journalists, editors, media executives, digital culture followers
Previous Clients: Popular Information, Scroll, States Newsroom, author Mason Currey, The Wakeup podcast
Rates: Rates begin at $200 per weekly listing (which gets you a spot in one issue each of Tabs and Study Hall during the week of your choosing) and $600 for a monthly listing (4 spots in Tabs, 4 spots in Study Hall over a month).
How To Order: Click here to reserve your spot.
Ads often fill up two to three weeks in advance; after purchasing, email vicky@studyhall.xyz and chris@studyhall.xyz for confirmation. Listings are limited to 280 characters.
---
Study Hall Opportunities :
The weekly Study Hall Opportunities newsletter goes out every Wednesday to 4,000+ media followers and Study Hall members.
The ads look like this in a Study Hall Opportunities newsletter: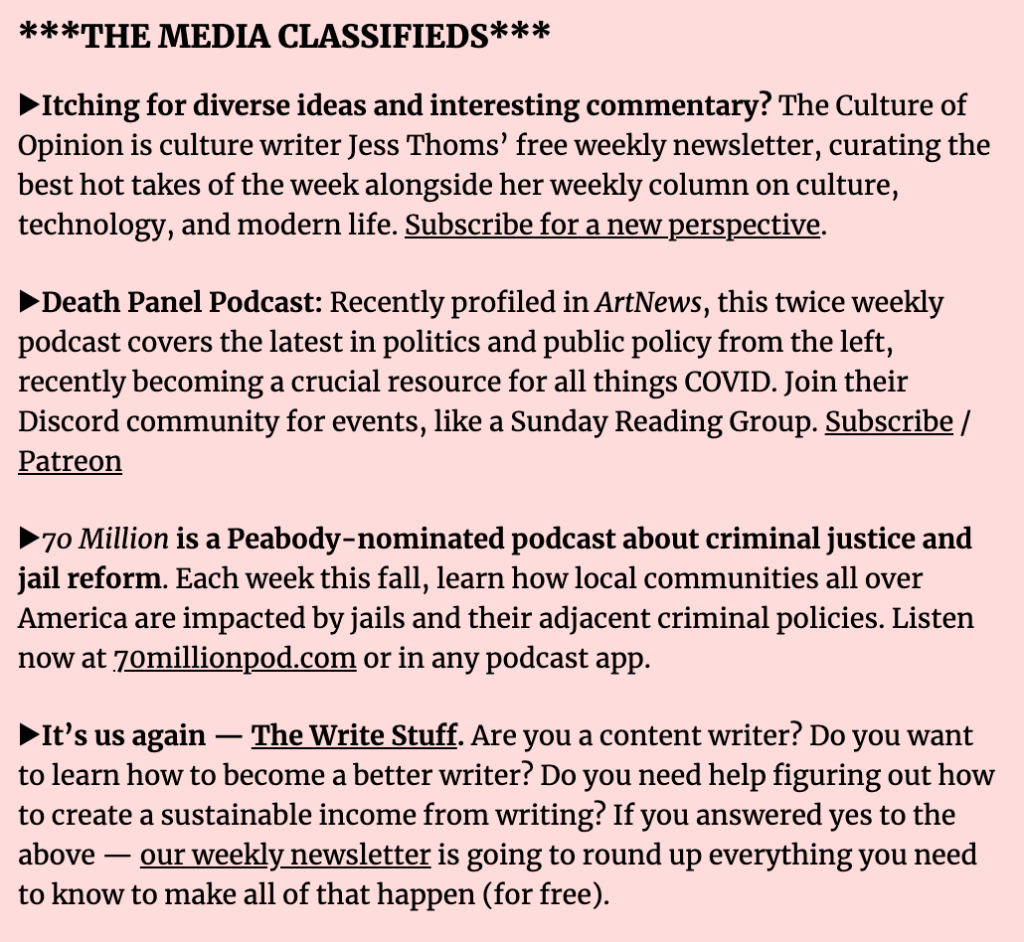 Today in Tabs (+24,000 subscribers):

We are now selling four classified ad slots per week on the legendary daily newsletter Today in Tabs, which goes to over 24,000 subscribers at a 45%+ open rate. Today in Tabs classifieds are only available with Study Hall and Deez Links.
The ads look like this: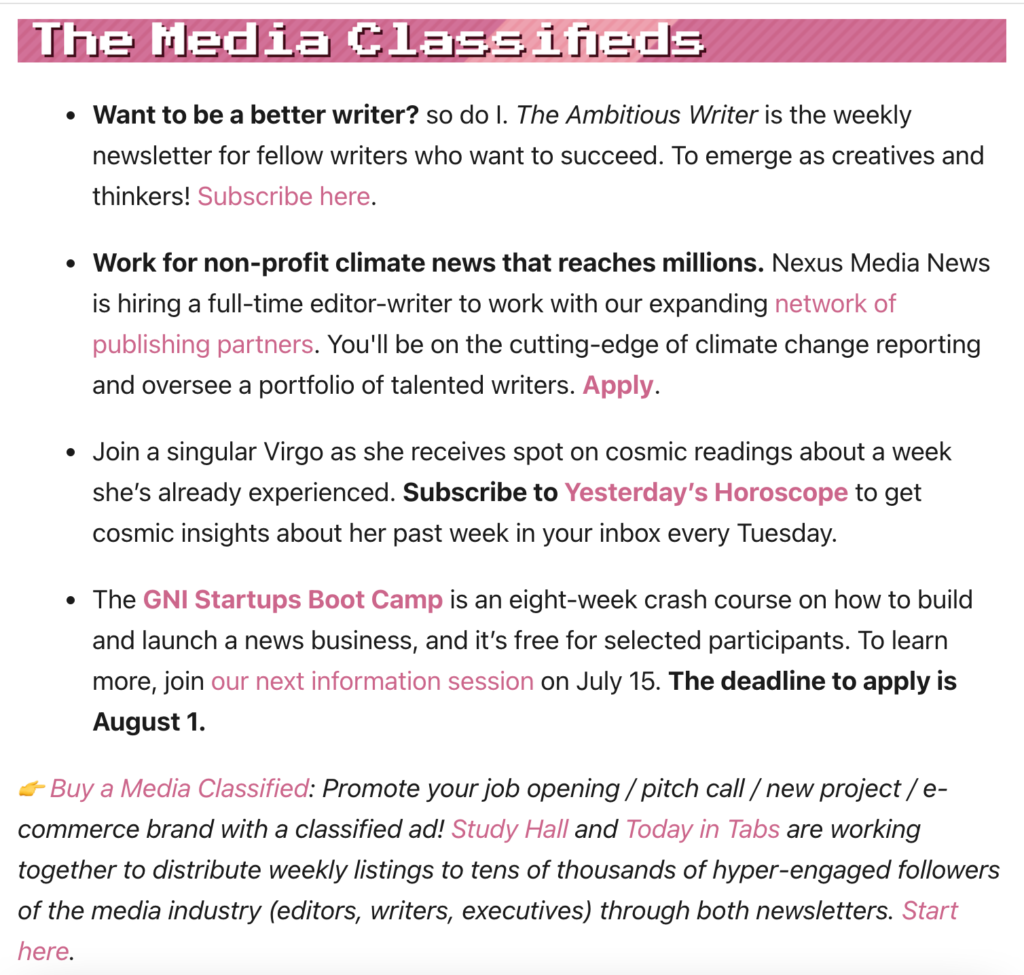 ---
Satisfied Customers:
Sara Meij / Wordcount: "I went from 36 subscribers before the classified to 402 after two ads. I'm estimating about 300+ of those new subscribers came from the classifieds in Deez Links and Study Hall. I'm beyond thrilled!!"

Deborah Carver / The Content Technologist: "Just wanted to say that I've been thrilled with the response so far. As someone who advises people on audience and marketing budgets, you can absolutely charge more."

Mason Currey / Subtle Maneuvers: "I bought a classified ad hoping for new subscribers to my newsletter, but I honestly didn't expect it to be this effective. By the end of the day I had my biggest-ever spike in new subs. Very impressed!"

Walt Hickey / Numlock News: "I first placed a set of classified ads because I was a fan of the work, but after reviewing the results the response and ROI exceeded expectations; the Deez Links and Study Hall audiences are smart, plugged-in and a delight to reach, I had a great experience working with Delia and Kyle."

Jess Thoms / Modern Life: "I was testing ads across a few newsletters and Deez Links x Study Hall was by far the most engaged audience / biggest conversion!"
---